GET READY TO LEARN!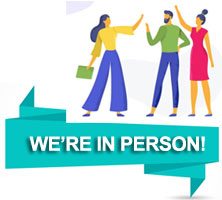 Saturday, June 17, 2023, can't come soon enough as it is our opportunity to gather at the Hyatt Regency Toronto to learn, contribute and share with our friends and colleagues! Register today and get ready to socialize and learn while still being mindful of our current environment. We can't wait to welcome you back!
Learning Objectives
The learning objectives of our 22nd Annual Review of DDW and Other Key GI and Liver Meetings are to review the key abstracts published from the 2023 Digestive Disease Week (DDW) and other key GI & Liver meetings content for information regarding new treatment, new research and treatment issues, which will affect your practice:
Participants will learn about key data in several clinical areas from a variety of the most important GI meetings.
Participants will learn about and be able to discuss new work in several areas of GI practice.
Participants will have the opportunity to hear about meetings they could not attend and learn new material that may be incorporated into patient care.
---
2023 Organizing Committee Members
Dr. Michael Gould, Co-Chair
Dr. David Morgan, Co-Chair
Dr. Nicky Marwaha, Member
Dr. Zaid Hindi, Fellow
---
Faculty
Dr. Jihong Chen, MD, PhD, FRCPC
Dr. Naoki Chiba, MD, MSc., FRCPC
Dr. Michael Gould, MD, FRCPC
Dr. Zaid Hindi, MD, FRCPC
Dr. Reena Khanna, MD, MSc., FRCPC
Dr. Yung Lee, MD
Dr. Avantika (Nicky) Marwaha, MD, FRCPC
Dr. David Morgan, MD, MSc., FRCPC, CAGF
Dr. Sahar Tabatabavakili, MD, MPH, FRCPC
Dr. Laura Targownik, MD, MSHS, FRCPC
Dr. Mohammad Yaghoobi, MD, MSc., AFS, FRCPC
---
Registration
Registration Information Program at a Glance
---
Visit Our Sponsors
Delegates are encouraged to visit the sponsors in the Exhibit Hall and view the latest developments in the field.

OPEN HOURS
SATURDAY, JUNE 17, 2023
8:00 am – 9:00 am ET
10:30 am – 11:00 am ET
12:15 pm – 1:15 pm ET
---
Continuing Education
This event is an accredited group learning activity (Section 1) as defined by the Maintenance of Certification program of the Royal College of Physicians and Surgeons of Canada (RCPSC) and approved by the Canadian Association of Gastroenterology.
CANMEDS Roles
Through this program the CanMEDS roles of medical expert, communicator, collaborator, leader, scholar and professional will be covered.
Winners of the OAG Mystery Box



Dr. Nicky Marwaha
[18,400 Points]
Is the 1st place winner of the OAG Mystery Box!

Dr. Lee Roth
[16,800 Points]
Is the 2nd place winner of the OAG Mystery Box!